Cascadia trucks recalled due to chance of inflammation on road
The manufacturer of Daimler Trucks North America recalled more than a hundred Freightliner Cascadia due to a defect of the exhaust pipe that provokes a truck's ignition.
The first to be called off were 2022 Cascadia trucks with a Cummins engine and battery boxes installed between the frame rails. As known, they were installed at the Cleveland plant from April 1 till July 12, 2021.
The National Highway Traffic Safety Administration (NHTSA) said the exhaust pipe may be installed incorrectly, with the end facing the battery compartments installed directly above the frame rail. Doing so could melt the battery compartment and increase the risk of inflammation.
The current situation affected a total of 460 trucks.
Signs of a defect in the exhaust system include residues on surrounding components, melting of surrounding components and / or the smell of molten materials.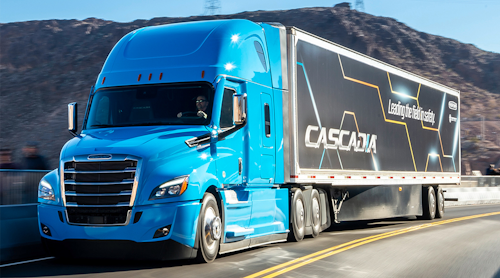 DTNA will notify dealers and clients of the revocation by registered letters on November 14, 2021. Repairs will be carried out at DTNA Certified Service Centers.
Looking back, DTNA has already recalled more than 100 000 Freightliner Cascadia trucks this month due to a defect that could lead to loss of vehicle's control.
---
Related Articles